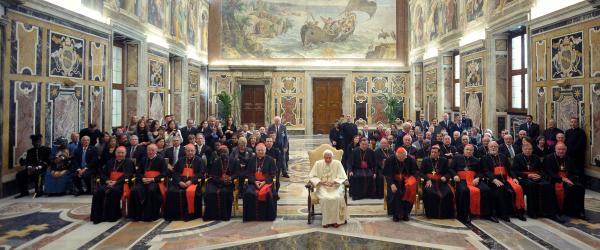 Sono
Membri
del medesimo Dicastero gli Illustrissimi Signori Coniugi:

Carl A. e Dorian Lounsbury ANDERSON (USA); André BELZILE e Guylaine MORIN (Canada) ; Leon BOTOLO MAGOZA e Marie Valentine KISANGA SOSAWE (Rep. Dem. del Congo); Leonardo e Martha Lorena CASCO (Honduras) ; Pablo Adrian CAVALLERO e Marcela Estela BENHAIM VARELA (Argentina); Jaime Armando Miguel e Ligia Maria Moniz DA FONSECA (India); Umberto DÍAZ VICTORIA e Isabel BOTÍA APONTE (Colombia); Alberto e Anna FRISO (Italia); Attila e Júlia GERGELY (Ungheria); John S. e Claire GRABOWSKI (U.S.A.); Norbert e Renate MARTIN (Germania); Tomás MELENDO GRANADOS e Lourdes MILLÁN ALBA (Spagna); Jean Marie e Anouk MEYER (Francia); David E. e Mary-Joan Osatohanmwen OSUNDE (Nigeria); Francisco e Geraldine PADILLA (Filippine); Simão Cirineu e Ana Maria Duarte Dos SANTOS (Brasile); Naser e Amira (Simaan) SHAKKOUR (Israele); Giovanni e Annamaria STIRATI (Italia); José Luis e Veronica VILLASEÑOR (Messico); Alberto J. VOLLMER HERRERA e Christine de MARCELLUS (Venezuela).
 
Sono Consultori del medesimo Pontificio Consiglio per la Famiglia:
 
gli Eccellentissimi Monsignori: Juan Ignacio ARRIETA OCHOA de CHINCHETRU, Segretario del P. Consiglio per i Testi Legislativi; Klaus KÜNG, Vescovo di Sankt Pölten (Austria); Ignacio CARRASCO de PAULA, Presidente della Pontificia Accademia per la Vita.
i Reverendi Signori: Mons. Livio MELINA, Preside del Pontificio Istituto "Giovanni Paolo II" per Studi su Matrimonio e Famiglia (Italia); Augusto SARMIENTO, Docente presso la Facoltà di Teologia dell'Università di Navarra (Spagna); Brice de MALHERBE, Docente dell'École Cathédrale e della Facoltà Notre-Dame di Parigi (Francia); P. Edoardo SCOGNAMIGLIO, O.F.M. Conv., Ministro Provinciale dei Frati Minori Conventuali di Napoli (Italia); Mons. Tony ANATRELLA, Psicanalista, Specialista di Psichiatria Sociale (Francia) ;; Mons. Francesco DI FELICE, già Sotto Segretario del Pontificio Consiglio per la Famiglia ; Santiago MARTIN, Presidente dei « Franciscanos de María » (Spagna) ; Mons. Michel SCHOOYANS, Professore emerito all'Università di Louvain (Belgio) ;
gli Illustrissimi Signori: Prof. Pierpaolo DONATI, Docente presso il dipartimento di Sociologia dell'Università di Bologna (Italia); Dott. Francesco BELLETTI, Membro della Consulta Nazionale di Pastorale Familiare dell'Ufficio per la Pastorale della Famiglia della Conferenza Episcopale Italiana (Italia); Prof. Stefano ZAMAGNI, Docente presso la Facoltà di Economia dell'Università di Bologna (Italia); Prof. Rafael NAVARRO-VALLS, Docente di Diritto della "Universidad Complutense" di Madrid (Spagna); Prof. Nicolás JOUVE DE LA BARREDA, Docente di Genetica alla "Universidad de Alcalá" (Spagna); Dott. Salvatore MARTINEZ, Presidente dell'Istituto di Promozione Umana "Mons. Francesco di Vincenzo" (Italia); José de Jesús HERNÁNDEZ RAMOS, Consigliere del "Doha International Institute for Family Studies an Development" (Messico); Coniugi Frank e Julie LABODA, (U.S.A.); Hon. Kevin ANDREWS (Australia); Dr. Jean-Marie CAIDOR, Segretario Esecutivo della Commissione Famiglia (Haiti) ; Prof. Francesco D'AGOSTINO, Presidente del Comitato Nazionale per la Bioetica (Italia); Mr. John Michael KLINK (USA); D. José Luis MENDOZA PÉREZ, Presidente della Universidad Católica San Antonio (Spagna); Prof. Pedro MORANDE COURT, Decano della Facultad Ciencias Sociales P Universidad Católica de Chile (Cile) ; Dr. Timothy T. O'DONNELL, Presidente del Christendom College (USA);
le Gentili Signore: Prof.ssa Germina Namatovu SSEMOGERERE, Consultore del "Capacity Building Programme for Ministry of Local Government Civil Service Personnel" (Uganda); Prof.ssa Eugenia SCABINI, Preside della Facoltà di Psicologia dell'Università Cattolica del Sacro Cuore di Milano (Italia); Prof.ssa Teresa STANTON COLLET, Docente della "University of St. Thomas School of Law" di Minneapolis (U.S.A.); Prof.ssa Susanne TIEMANN, Docente di Diritto Sociale presso la "Katholische Fachhochschule Nordrhein-Westfalen" di Colonia (Germania); Michaela Freifrau HEEREMAN VON ZUYDTWYCK, Volontaria nell'Associazione "Elternverein Nordrhein-Westfalen" (Germania); Christine BOUTIN, Ministre du Logement et de la Ville (Francia) ; Maria Teresa da COSTA MACEDO, Presidente "UIOFL - União Internacional dos Organismos Familiares Lusófonos" (Portogallo); Angela De MALHERBE, Presidente del «CEPP-Teen Star France » (Francia) ; Prof. Alicja GRZESKOWIAK, già Presidente del Senato Polacco (Polonia); Dra. Lydia JIMẾNEZ GONZÁLEZ, Direttrice dell'"Instituto Berit para la Familia" (Spagna); Dr. Janne Haaland MATLARY, Professore di International Politics University of Oslo - Department of Political Science (Norvegia); Prof.ssa Dina NEROZZI FRAJESE, Psichiatra Ricercatrice (Italia); Prof. ssa Janet E. SMITH (USA).
Settembre 2010