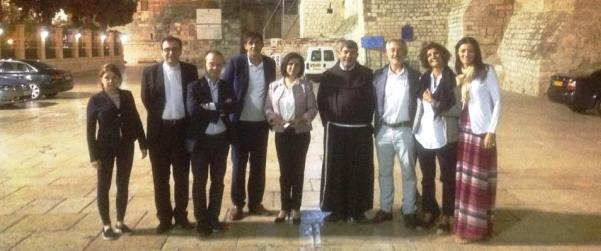 The Christmastime date of the project "The Great Mystery," being realized by the Pontifical Council with the Italian tenor Andrea Bocelli (www.ilgrandemistero.com), has been confirmed. 
On Sunday, December 20th, Maestro Bocelli will sing the beauty of love that generates life, including that of the Son of God, in front of the Basilica of the Nativity in Bethlehem.
This event, which will involve the Latin Patriarchate of Jerusalem and the Custody of the Holy Land, will exceptionally be broadcasted worldwide on TV.
A delegation of the Dicastery and the producers recently met with the Guardian Fr. Pizzaballa, Patriarch Twal (who will give the catechesis during the event), Bethlehem's mayor, Vera Baboun, and the Italian consul Dr. La Cecilia, to begin the complex organization of this exceptional happening.
"I hope―said the President, Archbishop Paglia―that this moment of contemplation and reflection on the beauty of the family and especially of children's faces may truly be an important moment for peace and dialogue. We want to let the message of the angels resound again on the Holy Night: Peace on earth to those He loves!"