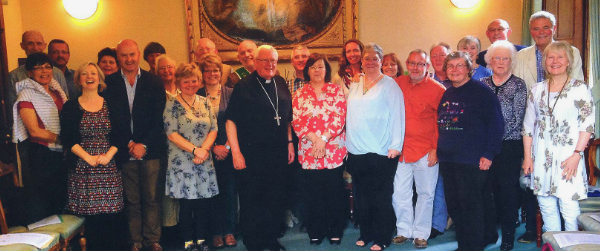 "Walking with families in sharing the Good News" is the title of the booklet published by the Bishops' Conference of England and Wales. In this volume are collected—along with precise references to the relevant websites—many initiatives and proposals, often practices, intended for all the basic cells of society.
This printed resource firstly proposes ideas for reaching adult faith in God, indicating many paths: a multimedia package for the family (www.homeisaholyplace.org.uk); an initiative focused on marital care (www.marriagecare.org.uk); a mental health project (www.mentalhealthproject.co.uk); the fight against domestic abuse (www.cedar.uk.net); and overcoming mourning (www.rainbowsgb.org). The small British magazine then presents tools that will help parents to be the good first teachers in the lives of their children, and recommends a book (www.familycaring.co.uk) and specific marriage preparation (www.catholicmarriage.org.uk). Not forgetting advice for living an active faith in the home, the resource recommends to the families the experience of "The Wednesday Word" (www.wednesdayword.org) and of the "Family Caring Trust" (www.familycaring.co.uk). Great emphasis is then put on the preparation of parents, both their reception in parishes (www.everybodyswelcome.org.uk) as well as that of other parents (www.catholicfamily.org.uk). A special section is dedicated to grandparents, and the English guide suggests good digital reference points and sites, such as www.catholicgrandparentsassociation.org and the aforementioned www.catholicfamily.org.uk. 
No less interesting then is the list of actions and times through which parents evangelize most effectively. This is the case, for example, when "they talk respectfully and kindly with their children, speaking well of others," but also when "they speak about God in the appropriate way during family conversations, when talking about death and illness with Christian hope." At other times, when couples are evangelizing and, then, "when they pray with their families; they share their children's concerns and hopes; they are attentive and comment together, evaluating them, programs and advertising in the media; they joyfully await and participate in parish events; they share their food with all; they walk together through all kinds of weather; they notice if someone in the family is sad and downcast; they work as much as possible in the home, alongside their children."