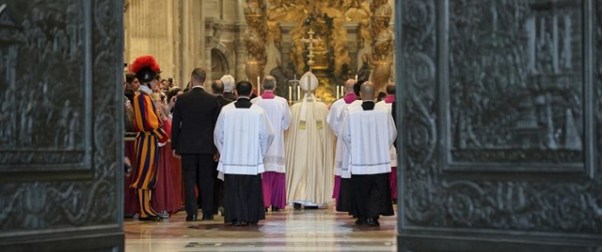 On Sunday, December 27th, 2015, the Jubilee of mercy for families will be celebrated around the world. 
All the local Churches have been invited to convoke the families, on the feast day of the Holy Family, in one of the jubilee churches where there is a Holy Door, to celebrate God's love with them.
"Mercy—stated Archbishop Paglia—is what keeps the doors of churches and houses from staying closed. Families need to go through a holy door, opened by the love of God, in order to learn how to open the door of their homes, abandoning the temptation of self-referentality, and to build a more just and united world, as Pope Francis has repeated in these weeks' Catecheses."
Pope Francis will preside Holy Mass in Rome at 10:00 am, in St. Peter's Basilica, with Rome's families and pilgrims. The doors will be opened at 7:30 am, and it will be possible to enter the Basilica, through a physical and spiritual itinerary that will start with the Nativity scene in the center of St. Peter's Square, the meeting point for all participants.
At the end of the celebration, Pope Francis will recite the Angelus at 12:00 noon, after being greeted by carol singing with all those present in the square, under the guidance and with the support of the children's choir of the Association of Large Families.
To participate in the Mass, it is necessary to request an admission ticket (free) only and exclusively at the Prefecture of the Papal Household (send your request via fax to +390669885863). Tickets are not necessary to attend the Angelus in the square, where all of Rome's families are invited.