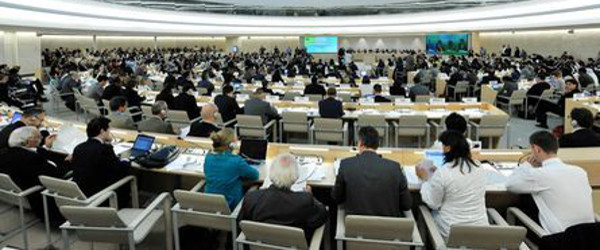 "The family is the fundamental cell of human society." This statement, recalling words dear to St. John Paul II, was made yesterday by Msgr. Silvano Maria Tomasi, Permanent Observer of the Holy See to the UN in Geneva, in his intervention at the 26th Session of the Human Rights Council. In this address, the Archbishop stressed that the family continues exhibit "great vigor", despite the attacks of those who seek "to eliminate it as a relic of the past, or an obstacle to the emancipation of the individual, or to the creation of a freer, egalitarian and happy society."
Archbishop Tomasi then underlined the "reciprocal ties" between the family and society, "mutually linked by vital and organic bonds," and complementary "in the defense and advancement of the good of every person and of humanity." "The dignity and rights of the individual are not diminished by the attention given to the family. On the contrary, most people find unique protection, nurture, and dynamic energy from their membership in a strong and healthy family founded upon marriage between a man and a woman."
Particular attention was paid to children, who need "a harmonious family environment for their education and formation with both male and female parental role models." Only in the natural family, insisted the delegate, can the new generations learn values such as "love, education, mutual support and the transmission of the gift of life." "This understanding has been embraced throughout history by all cultures," said Archbishop Tomasi, recalling the Universal Declaration of Human Rights, which recognizes "unique, profound, and uncompromising rights and duties for the family founded on marriage between a man and a woman."
Concluding, he voiced the appeal that the family should not be "divided or marginalized", but rather "defended and promoted not only by the State but also by the whole of society." Family and marriage, he said, "require the decisive commitment of every person because it is starting from the family and marriage that a complete answer can be given to the challenges of the present and the risks of the future." 
Read the text of the intervention in English at>>
See the news item in French at>>